Art is empowering. At least, that's what the volunteers, members, and staff at The Art Museum of Eastern Idaho believe. Art is a piece of history. It shows emotion, represents cultures, and tells unbelievable stories. Whether you are creating a work of art yourself or you are admiring the work of others, it's likely that you have felt a spark of the empowerment that art creates.
The Art Museum of Eastern Idaho in Idaho Falls has been temporarily closed since March 17, 2020, due to COVID-19. They will be closed until further notice. However, despite COVID-19, the volunteers and staff of The Art Museum (TAM) feel that it is important that visitors and members are still able to enjoy art.
Even though the museum is closed, they remain active on their social media accounts, encouraging people to make their own art while they are in quarantine or while social distancing. They have been highlighting their staff, some of the art in their collection, and have organized a virtual tour of their newest exhibit.
Virtual Exhibit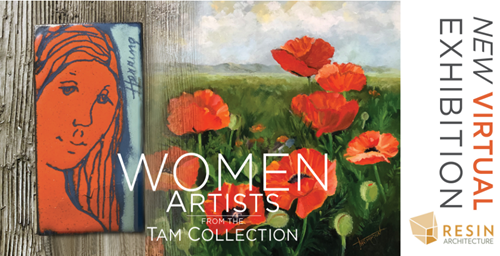 To honor and celebrate the United State's 100-year anniversary of women's suffrage, TAM is highlighting all works of art in their permanent collection that are done by female artists. The mediums range from paintings, sculptures, and clothing design. The exhibition is available for virtual guests to tour online and features works of art from more than 50 female artists.
When guests take a virtual tour of the exhibition from a desktop, a 3D screen appears which allows them to "move" around the museum just by clicking. You can move closer to the works of art and even read the description of the piece and artist. There are three alcoves with art, along with the main lobby featuring a few pieces.
Some of the artwork in the collection was gifted to TAM, like the "Toulouse-Lautrec" in Watercolor by Suzanne Fonnesbeck. Suzanne Fonnesbeck was one of the Eagle Rock Art Guild's original founding members and first president. She passed away in 2004. Her piece is wonderfully colorful and radiant, with dark strokes amidst the swirling watercolor. It was gifted by the Edward Schroeder Estate.
Another gift to the collection is the "Woman and Child" sculpture done in concrete by Marilyn Hoff Hansen. Marilyn is a native Idahoan and set up her studio in a former dairy barn on her husband's farm. The barn is now a local art center and home to many pieces of her artwork. The sculpture provides a sense of awe and peace as you admire the leaning woman with the child in her lap. It's truly incredible that the piece was made with concrete. The piece was gifted to TAM's permanent collection by Jerry Brady. While on the virtual tour, you'll find another sculpture by Marilyn Hoff called "Woman Contemplating her Tour," done in bronze.
For parents staying at home with their children while schools are closed, this virtual exhibition may be an exciting opportunity to learn more about art. If you aren't homeschooling or being homeschooled, you might still enjoy this opportunity to view marvelous works of art and to feel like you are really visiting TAM.
Young at Art
Despite all the disappointment and panic of COVID-19, TAM has managed to bring a smile to faces as they've shared highlights of the 2020 Young at Art exhibit on their Facebook and Instagram pages. The Young at Art exhibit showcases young artists from schools in the east Idaho area. Since the Young at ART showcase was cut short, TAM chose to spotlight a piece of artwork from each school that participated in the exhibit. Some of the many schools involved were the Dora Erickson Elementary School in Idaho Falls, Swan Valley Elementary School, and Eagle Rock Middle School. These young artists showed true artistic talent with their bright, bold, and fun works of art. Sharing these works on their social media platforms empowers other artists to create even in times of distress.