Spending a day at the zoo is a fun summer activity regardless of your age. The zoo offers a variety of animals and activities that are sure to please everyone in your party. Bringing your family to the zoo also has many benefits such as encouraging environmental awareness, increasing knowledge about a variety of species, and sparking curiosity.
Zoo Idaho is a zoo that offers its patrons a look at the animals that inhabit the Intermountain West. It is located in Pocatello and offers 30 exhibits and 98 different animals to see and learn about. They first opened in 1932 with only two animals on display in wire pens—a female rhesus monkey named Josephine and a raccoon named Pete. It was previously known as Pocatello Zoo until 2016, when the name was changed to Zoo Idaho to reflect the zoo's identity as an indigenous species zoo. This zoo specializes in rehoming orphaned or injured animals who would not be able to survive in the wild.
Sara W. Ifft Grizzly Bear Exhibit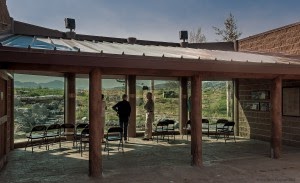 Zoo Idaho offers a variety of exciting exhibits for patrons to enjoy, but one of the most popular is the grizzly bear exhibit. This world-class exhibit opened in July of 2012 and since then hundreds of families have made the return trip to sit in the viewing gallery and observe the bears. The half-acre exhibit includes a covered beach, mature trees, and a recirculating stream with both trout and bass. It also offers visitors an opportunity to get an up-close view of the bears, as the glass viewing gallery puts visitors within inches of the animals.
The Grizzly Bear exhibit features two female bears named Stripes and Shoni. Stripes is the elder bear who arrived at Zoo Idaho in 1991; she was born at the Columbus Zoo in 1989. Shoni arrived at the zoo in 2014; she was labeled as a non-releasable nuisance bear from the Shoshone National Forest in Wyoming. Come experience the grizzly bear exhibit at Zoo Idaho and observe the natural activity of Stripes and Shoni!
To see the exhibit check out: https://youtu.be/eHoWZM0QUcM
Upgraded Bald Eagle Exhibit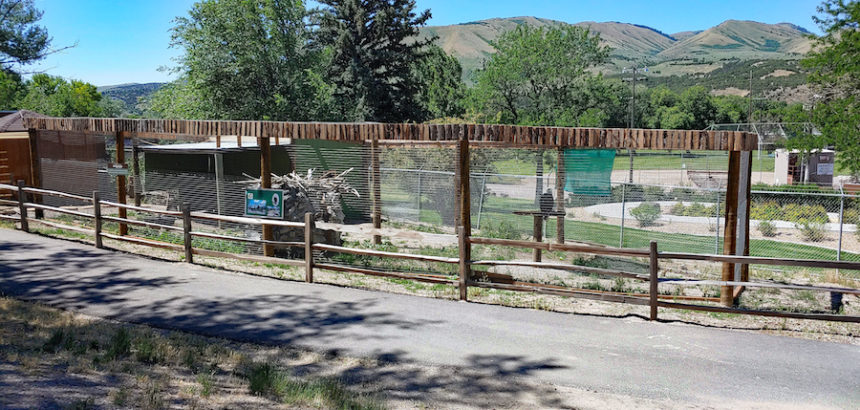 Zoo Idaho has also recently upgraded their bald eagle exhibit for its eagle, Valkyrie. Valkyrie was acquired from the Idaho Fish and Game from a falconer in Paris, Idaho. She is considered a non-releasable eagle because she showed signs of imprinting when found. It was important to the zoo to create an exhibit that assisted in the care and livelihood of Valkyrie.
Within this exhibit, you will see many new features such as a nest site, three perching areas, shade and weather structure, and an additional 1,000 square feet of space.
Peter Pruett, Zoo Idaho Superintendent commented on the project saying, "Not only is it a great new exhibit for Valkyrie, but it is also a significant improvement in our ability to care for her and allow for our community to see an awesome bald eagle."  
This project was completed to kickoff their improvements of all raptor exhibits within the zoo. Other raptors featured within the zoo include a red-tailed hawk, great horned owl, Swainson's hawk, and turkey vulture.
Zoorific Tours
Do you have a large group that would like to visit the zoo? Check out their Zoorific Tours, these tours are for those who want to maximize their learning experience while at the zoo. These tours are an hour long and allow your group to be accompanied by a guide as you walk through the exhibits. If you are a teacher, this would be a valuable field trip as the programs focus on topics that are in line with Idaho State Education Standards. These tours are best for groups no larger than 25 people.
Zoo Idaho also hosts groups from summer camps, youth and scout groups, and even corporate events. Next time you need to plan an event, bring your group to the zoo for a half-day of learning and activities.
For more information or to make a reservation for your group visit zooidaho.org
Visit
To plan your trip to the zoo, check out Zooidaho.org. Here you will find their hours of operation, ticket prices, and other helpful resources to help you when planning your visit. Due to COVID-19, they are taking precautions to protect their patrons by having their petting zoo closed and only allowing 300 people in the zoo at one time. For any additional concerns or questions please contact the zoo staff.
Going to Zoo Idaho provides a unique opportunity to learn about native wildlife through the various exhibits. A few of the animals you should expect to see include bison, cougars, pronghorns, and of course, the grizzly bears, Stripes and Shoni. Plan your visit today to support your local zoo!