With summer coming to an end soon, be sure and take your family to a fun day at Lava Hot Springs. Located 2 hours north of Salt Lake City and 3 hours south of Yellowstone Park, Lava offers its guests a variety of activities that are sure to please everyone in your group. Some of these activities include hot pools, a swimming complex, disc golf, and tubing down the Portneuf River.
Hot Pools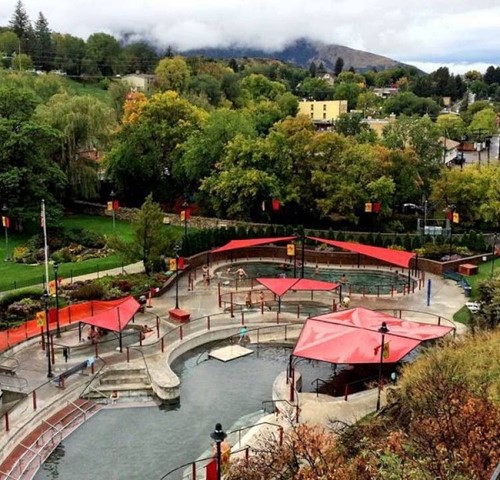 If you are looking to relax, look no further then the world-famous hot springs. Take a dip in one of the five pools, that range between 102 and 112 degrees Fahrenheit, to find the temperature that is right for you. The hot pools are high in minerals such as magnesium, sodium, and potassium. These mineral pools can help to relieve pain and reduce anxiety and stress. You can also be assured that they are sanitary as over 2.5 million gallons of water flow throughout the springs each day and are diverted into the Portneuf river that keeps the springs ever-changing and clean. With no added chemicals or sulfur you also won't have the odor that is common to most hot springs. The hot springs in Lava are open 363 days of the year. With a snowmelt system on the deck and cold water shower along with canopies to block the sun and rain, you are sure to be comfortable in the hot pools all year round. Next time you come to Lava be sure and stop by the hot pools for a day of relaxation as you enjoy a nice, warm soak.
Outdoor Swimming Complex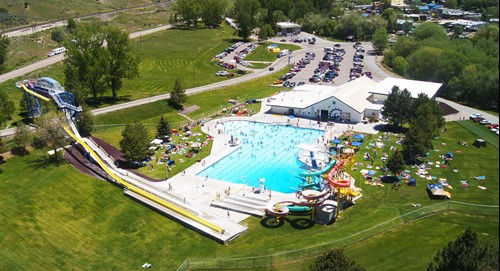 If you want to escape the summer heat then check out the Swimming Complex and all its amenities. As you drive past Lava you can't miss the Olympic-sized swimming pool and water slides that are enticing to all ages. This outdoor pool is open from Memorial Day to Labor Day for you to enjoy throughout the summer months. The pool holds nearly a million gallons of crystal clear water and is 50 meters long by 8 lanes wide. It also offers a 17-foot deep end and a shallow end with toys and slides for younger or less experienced swimmers.
For those in your group who are more adventurous be sure and check out the water slides and diving platform. Lava has two large water slides that offer its riders a 60-foot vertical drop with a terminal velocity of 38 mph. Riders must be at least 48 inches tall to ride on these speed slides. By the time you reach the run out at the bottom, you are sure to be smiling and wanting a second go around. If you are looking for more adventure, the Diving Platform is a definite thrill for any members of your group who are brave enough to jump from its 5, 7, or 10-meter heights. An online diving platform waiver must be signed by anyone who uses the platforms. Thrill-seekers are sure to be pleasantly surprised by the activities offered at Lava.
Indoor Aquatic Center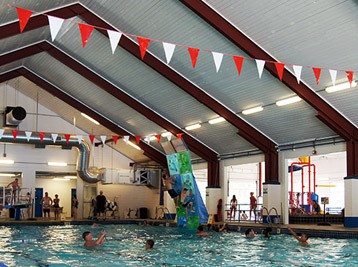 With east Idaho offering some chilling temperatures in the winter months Lava also has an indoor aquatic center that can be enjoyed all year. This includes an indoor swimming pool, aqua climb wall, Portneuf Kiddie Cove, and a diving board.
The indoor pool offers 6 lanes and 25 yards that is completely enclosed and provides shaded indoor fun for all ages. Portneuf Kiddie Cove is also great for toddlers and preteens to come and enjoy a variety of aquatic toys. Some of these toys include water flowers, geysers, and a giant bucket that will tip periodically and soak anyone that is beneath it. Check out kiddie cove for a place for your kids to climb, slide, and splash all day.
Disc Golf
During your time at Lava, be sure to stop and play a game of disc golf. There are two different courses you can follow, each composed of nine holes. If you don't have the right equipment, there are discs available for sale at local stores. The Lava Hot Springs Disc Golf Course surrounds the Olympic Swimming Complex. The Lions Club Park Course is located a couple of blocks away to the west. For more information or to get a PDF map check out https://lavahotsprings.com/disc-golf/.
Tubing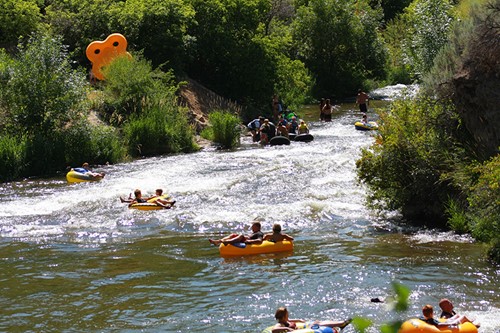 Floating down the river is a common pastime especially in the summer months. If you enjoy relaxing in a tube with your friends and family near, then try out tubing during your visit to Lava Hot Springs. The Portneuf River passes through the heart of Lava and maintains its depth through the annual snowmelt. This quick, rapids-filled stretch can be floated once or twice per hour. Tubing is available between mid-May to mid-September. If you want to participate in this fun summer activity then rent a tube or bring your own to enjoy a fun-filled day of floating the Portneuf River.