With summer just around the corner, families and individuals are looking for a fun adventure to enjoy in eastern Idaho. At Heise, close to Ririe, Idaho, there's an adventure for everyone.
Heise History
Nestled along the hillside toward Kelly Canyon lies the bustling business of Heise. Since 1900, Heise has been a recreational spa area for visitors and locals alike. Heise was founded by Richard Camor Heise who recognized the potential for the original mineral hot springs to become an area of relief for those with aches and pains. The area around the pools was soon full of structures that included a post office, store, schoolhouse, large log hotel with a parlor, dining room, kitchen, dance hall, and rooms for guests. Two mineral pools were enclosed while one pool remained an outdoor pool cool and large enough to swim in.
While Heise was popular even then, it wasn't as easy to get to as it is now. For years the Heise family struggled with the county to have roads taken care of and a bridge built. For 38 years the only way to travel across the river was by ferry. Although the ferries couldn't always travel easily through ice jams and dangerous driftwood from the spring runoff. Now, travel over the Snake River is simple with the Heise Bridge ready to carry travelers across.
Today, those buildings and roads look a little different. New amenities have been added and upgrades have been made. However, people still come from all around to experience the mineral pools--no matter the time of year!
Heise Pools
If you are a water lover, Heise is sure to please with its pool options open almost all year.
Hot Pools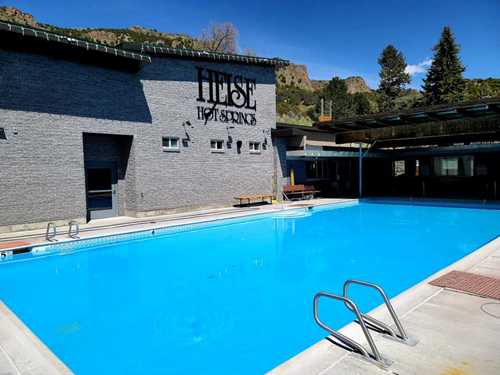 The legendary hot pool at Heise is rich in minerals like potassium sulfate, sodium sulfate, sodium chloride, and calcium carbonate. Mineral pools are known to help soothe skin, relieve pain naturally, boost blood circulation, and promote relaxation. The hot spring is kept around 104 degrees Fahrenheit which is perfect for sitting and relaxing or warming up during the cold winter months. There is also a warm pool of freshwater kept at about 92 degrees Fahrenheit. The hot pools are open almost all year long, excluding the month of November, for guests to come and enjoy a nice, warm soak.
Summer Pool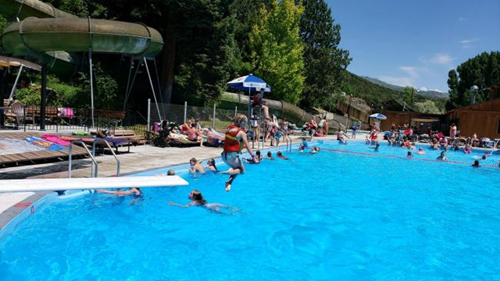 While the hot pools might be just what you need in the winter, in the summer, you might want something a bit cooler. From Memorial Day Weekend to Labor Day Heise opens their summer pool which has a temperature of around 84 degrees Fahrenheit. The summer pool is fun for the whole family with a diving board and a 350-foot water slide to play on. Plus they have an extensive snack bar to enjoy once you've worked up an appetite. Just remember not to swim right after eating, you don't want to get a cramp!
If you were in the area and didn't plan on coming to enjoy Heise but you want to take a dip, Heise also offers swimming equipment rentals. Towels, suits, and life jackets are all available for rent. To enjoy access to the pools, you'll need to purchase a pool pass, even if you don't plan on swimming. If you don't swim, you can get some of your money back when you leave. You'll also need to buy a water slide pass if you plan on riding.
Please note: Due to COVID-19, Heise pools have been closed since the end of March. Pools will reopen on June first.
Camping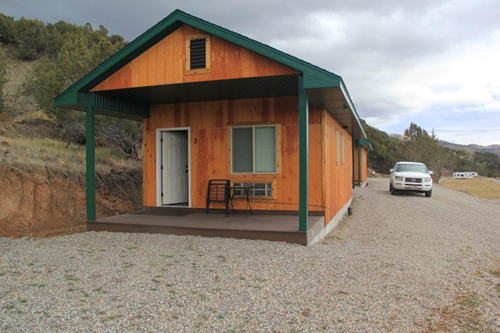 With so much to offer, it's hard to resist staying at Heise for less than a day. That's why Heise offers an extensive campground to allow guests to stay close to the fun. At Heise campgrounds, there's a place for RV/Trailers and tent camping, plus cabins for guests to stay in as well. Cabins vary in size, with some allowing room for up to four guests, while others are smaller and only have room for two. Cabins and camping areas fill up quickly, so make sure you reserve your spot in advance!
To reserve your spot at Heise, you'll need to call and give the following information:
Name
Address
Phone number
Arrival and departure dates
Site preference
Tent or RV (& RV length)
Number of people/pets in your party.
Reservations are held with credit card information, but cards are not charged until arrival. Reservations can be canceled within 48 hours of the arrival date. If you are a no-show, you will be charged for the first night for all sites reserved under your name.
If you want to bring your pet with you, be sure to review Heise's pet policy!
Golfing
During your visit or stay at Heise, be sure to check out the golf course. Made up of nine holes, this course is a great spot to spend a couple of hours playing. If you weren't prepared to hit the green, no worries! Heise offers full golf rentals with clubs, balls, and a pull cart to meet the needs of its visitors. Golfing and the golf rentals at Heise are very affordable and it will be fun for the whole family. What are you waiting for? Get swinging!
Zipline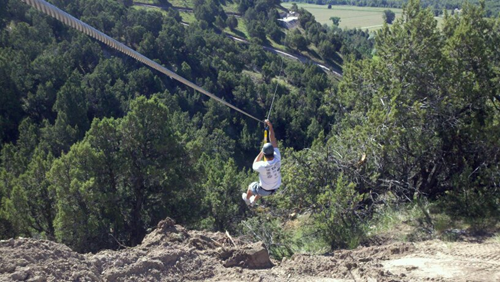 Ready to admire the snake river valley from a view you haven't seen before? Heise has a 10-line zip line course covering 1.5 miles of terrain. While the adventure is daring, it's completely safe as experienced guides are with you the entire time. Each line varies in length, with some being 300 feet long and others 1,400 feet! This adventure is perfect for any adrenaline junkie or family looking to make some unforgettable memories.
The Heise Zip course takes about two hours depending on how big your group is. Some of the lines also go side-by-side, so you can soar through the air with a friend by your side. Even if you are nervous at first, by the end of the course you'll be hooting with laughter as you become more comfortable feeling the wind rush past you. Each part of the experience is fun, from the ATV ride to and from the mountain to the zipline! Whether you are by yourself or with your entire family, you are sure to have a memorable time.
Food
After a summer day full of zip lining, golfing, and swimming, or a winter day of relaxing in the hot pools, you are sure to work up an appetite. To satisfy your hunger, there's no better place to go than the Heise Pizza Parlor. There is something for everyone in your group to enjoy at the Heise Pizza Parlor. Besides delicious specialty pizza, they serve pasta, salads, sandwiches, and (the best part of any meal) dessert.
The Heise Pizza Parlor serves pizzas in four sizes, large, medium, small, and personal size. They also offer a take & bake option. Some of the pizza combinations they have available are the "Heise Special," "Hawaii Five-0," "Vegetarian," and "German." You can have your pizza made into a pocket--or calzone--too. If you are feeling something different, try the parlor's spaghetti with meatballs, krab salad, or French dip sandwich...among other options. Before you go, dig into some delicious dessert!
If you're enjoying the summer pool, you might want to try the snack bar due to its convenient location. The snack bar serves a variety of snacks like onion rings and nachos, or you can get something more filling, like a burger. If you need help cooling down in the summer heat, treat yourself to a milkshake! Both the Heise Pizza Parlor and the snack bar have indoor and outdoor seating for you to enjoy your meal wherever you like.
---
Visit Heise in the summer for golfing, zip line, and swimming adventures, or in the winter for a relaxing day in the hot pools. No matter the season, there is something for everyone to enjoy. Make Heise your next east Idaho adventure!