In the heart of downtown Idaho Falls is a place for artists, creatives, and everyone in between. Possibly Picasso is a family-owned business that was established in September of 2014 to become a place where everyone can discover their inner Picasso.
Possibly Picasso is a ceramic painting shop. People can't resist coming into the shop after passing the fun, boldly painted windows inviting them to come inside and paint. The brightly colored walls and tables, plus the shelves of adorable ceramics will have you eager to let out your inner Picasso.
Customers begin their Possibly Picasso experience by choosing a ceramic figurine, dish, or box to paint and decorate. If you don't feel the sensations of design inspiration right away, the studio has idea books, finished pieces, and stencils to help. Once you finish your masterpiece, leave it behind to be glazed and fired in the studio's kiln. You can come back after about five days to a week to pick up your artwork.
My Possibly Picasso Experience
My first time at Possibly Picasso was with a roommate. It was a summery, Saturday morning and we had just finished admiring the Idaho Falls Farmer's Market a few blocks over. The shop had just opened for the day, so we had the store to ourselves for a little while. The owner was there and was super helpful in walking us through the process of Possibly Picasso. After his explanation, we had to choose our pieces. It was difficult choosing which ceramics to paint since they were all so cute. Since we couldn't decide on just one, we each chose two. I chose a dinosaur and snail. I painted my dinosaur a classic green color, with white specks along the ridge of its spine. The snail I painted in true "Spongebob Squarepants" fashion, with a pink shell and blue body. Picking which colors I wanted to use was almost as hard as choosing what to paint. The colors they have are beautiful and it's easy to imagine your ceramic piece looking adorable in any one of them.
The store felt so welcoming and peacefully creative that it would have been easy to spend hours there. In fact, for customers who want to spend hours working on their creations, they can pay for their piece and come back with it to finish it later. However, since we both chose smaller items, we painted them quickly and were only there for about one hour. We left our cute little figurines with the owner with the promise that we'd be back for them soon. When they were done, they were featured in one of Possibly Picasso's Facebook posts along with other ceramics that were done. It was fun to see our art among the work of other great masterpieces. Our figurines were featured in our apartment the whole semester. They became a physical memory of a great day.
Even amidst a crisis, Possibly Picasso carries on
Now, Possibly Picasso is one of the many small businesses that has been affected by COVID-19. As a non-essential business, they had to temporarily close their doors to people looking for a painting project. Unfortunately, this is a time where many people have extra time on their hands and would love to have a creative project to work on.
However, despite the hard situation, Possibly Picasso saw an opportunity to send paints and pottery pieces home with customers so they would have something fun to do while they followed the Governor's stay-at-home order. Their home kits feature a pottery piece of your choice, brushes, and six paint colors. Customers can choose from a variety of colors to include in their home kit, like orange peel, red rover, teal tomorrow, leapfrog, and more! The paints are water-based and kid-friendly, so those with home kits don't need to worry about paint leaving stains or being dangerous if it's accidentally consumed.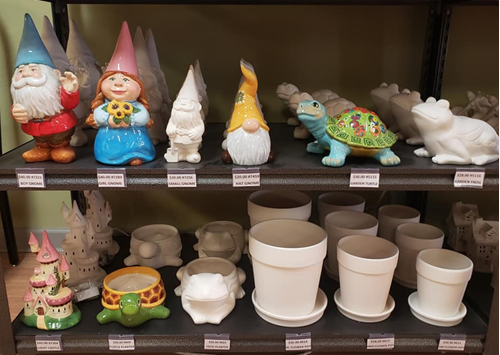 The home kit is only $8 and includes the kiln fee. This price is similar to their typical studio fee of $9 for adults and $7 for children 12 and younger. The pottery pieces are separately priced, and the prices range from $4 to $60. In the store, the studio fee includes all the paint, supplies, instruction, and firing. Once home pieces are finished, customers can bring them back to Possibly Picasso to be put be glazed and fired.
The studio has seen extra support from the community with their take-home kits. Though they've considered doing the kits before, they were unsure of the response they'd receive. However, there was no need to worry. During the first week, they sold between 800 to 1000 kits. The insane amount of encouragement from the community has been exciting for Possibly Picasso and they've decided to make these kits a regular option, even after the store opens again.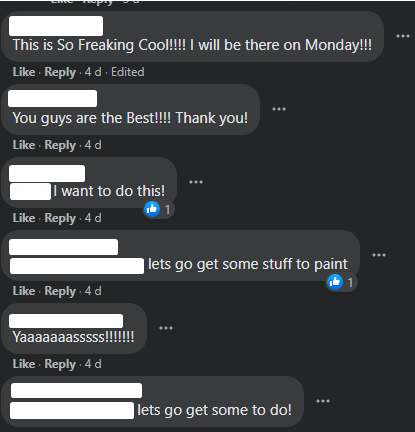 Although the take-home kits have been successful, Possibly Picasso is eager for the restrictions of COVID-19 to lift. This will once again allow groups of people to gather and paint together in the studio. You can make it a celebration by calling ahead and getting a group discount on a group of 10 or more people. During normal operating standards, Possibly Picasso allows visitors to bring in snacks and food to enjoy while they paint as well.
If you had a birthday or other special occasion during the COVID-19 shutdown, celebrate it by having a group party at Possibly Picasso. Groups who come to Possibly Picasso have a blast together as they pick out different ceramic pieces, debate on how to decorate them, and chat while they make their masterpieces come to life. Be sure to check out Possibly Picasso for one of their remarkable events like ladies nights or for a church/scouting group.
Possibly Picasso will be opening their doors again soon for the public to come and enjoy a few peaceful hours of painting. Be sure to show them the same support they've shown to the community by stopping by for a ceramic piece of your very own.

Interviewed: Joshua Hashagen (owner)
Photos: possiblypicasso.com