For lovers of cheese and gelato, there's no better place to eat than at Manwaring Cheese. People who have lived in the eastern Idaho area for a while know the Manwaring name and the reputation of their cheese. After all, the Manwaring family has been providing fine dairy products for their friends and family since 1955.
The historic tale of Manwaring Cheese
The Manwaring Cheese story starts with Basil Manwaring, son of Arthur Manwaring, who worked on his family dairy farm and later a creamery in Blackfoot, Idaho, before attending Utah State University in Logan Utah. During Basil's college days, he managed a school dairy farm where he made ice cream, cheese, and butter. After graduating, Basil worked for Nelson-Ricks Creamery in Rexburg, one of the 70 dairies between Ashton, Driggs, Pocatello, and Star Valley, Wyoming. Although Idaho is famous for its potatoes, it is also the third-ranking state for cheese production in the United States.
Later, Basil bought a small plant in Ashton, Idaho, and opened Manwaring Cheese. After 16 years in Ashton, Manwaring Cheese moved to Rigby, Idaho, along the Yellowstone Highway. They produced their first batch of cheese on February 3, 1971. The Manwaring family kept the plant operating after Basil's passing in November 1972 until it closed in the 1980s.
In 2010, Basil's son Blake opened a new cheese-making plant in Rigby to continue his father's legacy. After eight years, Blake sold his business to his second cousin, Justin Manwaring. Thus allowing the Manwaring Cheese company to live on as a true, local and family-owned business.
Where is Manwaring Cheese now?
After Justin purchased Manwaring Cheese, they relocated to its current location in Idaho Falls, right across from Yellowstone Highway and Broadway street, next to the Museum of Idaho. The Idaho Falls building, a checkered and subway-tile clad beauty, has now been open since November 2019. Their hours of operation are 10 a.m. to 10 p.m., Monday through Saturday.
The Idaho Falls location is beautifully modern and welcomes downtown visitors to take a break and enjoy a taste of homemade cheese curds, a grilled cheese sandwich with tomato soup, and a big scoop of gelato. As you wait for your sandwich, you can sample some of their homemade cheese, sit in one of their hanging wicker chairs, or admire the equipment used to make the cheese.
Plenty of options
Grilled cheese sandwiches paired with hearty tomato soup is a classic comfort food combination. Manwaring Cheese perfects this combination by allowing customers to choose which type of cheese they'd like on their sandwich—which is made with specialty sourdough bread baked exclusively for Manwaring Cheese using a 125-year-old sourdough start. While there aren't many options for meals, there are many options for cheese.
The cheeses you can choose for your sandwich include hellfire (their hottest cheese), carraway, ranch, dill, garlic pepper, habanero, green onion, tomato basil, Tucson rub, smoked chipotle, and jalapeno. If you need a recommendation, their garlic pepper is the most popular cheese for sandwiches.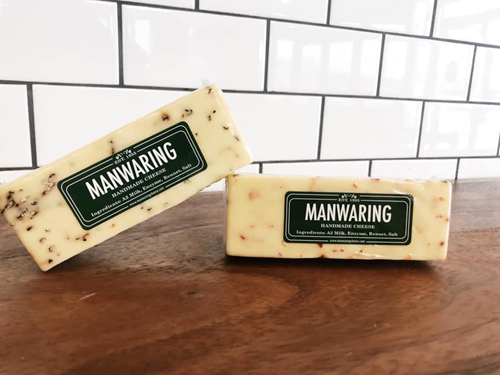 Manwaring Cheese doubles the comfort by also serving handmade gelato either in cups or in a freshly pressed waffle cone. They have a variety of flavors, like raspberry, coconut, chocolate peanut butter, mango, pistachio, cookies and cream, Italian cream, lemon, strawberry, banana, and salted caramel. Between the warm cheese and waffle cones, the smell in Manwaring Cheese is heavenly.
The gelato is made in true, Italian fashion by the owners, Justin and his wife, Amber. They learned how to make gelato in Italy at the Carpigiani International School of Gelato, so their skills are the real deal. Even the machinery they use, like the batch freezer, pasteurizer, and blast freezer, is genuine Carpigiani equipment. It was bought in Italy and then shipped to the United States. If you can't make it all the way to Italy for some authentic gelato, go to Manwaring Cheese!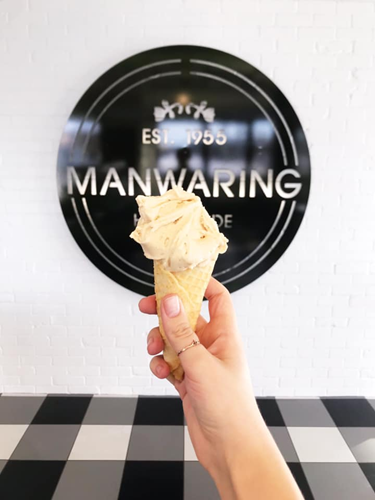 Besides serving drool-worthy grilled cheese sandwiches and gelato, there are two things that set Manwaring Cheese apart from other cheese factories in the area. First, Manwaring cheese is made on site. As previously mentioned, you can admire the shiny, metal cheese-making equipment from large windows in the shop. Their equipment includes a pasteurizer, a cheese vat, and a cheese press.
Second, the milk used for their cheese is sent in from a local dairy in Hamer, Idaho, which has a herd of Guernsey cows. All the cows on this dairy produce A2 milk, which has a different beta-casein protein than regular milk. What this means is that people who are lactose intolerant are able to enjoy their milk and cheese products without being bothered by the dairy. They even use the A2 milk for their gelato.
If you aren't stopping in for a sandwich or gelato, you might be there to pick up some raw milk or cheese curds. Since Manwaring Cheese makes their cheese on-site, they have fresh cheese curds on Tuesdays and Thursdays, when they make the cheese. Cheese curds are what cheese looks like before it's been pressed. They cut-up the cheese so they can salt it evenly with sea salt before it gets pressed into the standard cheese blocks. Cheese curds are also sometimes called squeaky cheese because when they're eaten warm, they squeak! Manwaring Cheese also sells raw, bottled milk from the dairy—but it sells out quickly, so get some while you can!
How is COVID-19 impacting this local gem?
Like many restaurants, Manwaring Cheese is currently closed for dine-in customers due to COVID-19. They've combated this issue by setting up an online ordering system so they can sell cheese curds, sandwiches, and gelato (in pints or quarts) to customers for pick up. They've enjoyed adapting with delivery and curb-side pickup and anticipate that they will continue to offer these services once restrictions are lifted. This way customers can still enjoy Manwaring Cheese by taking it home. You can also buy Manwaring Cheese from the Broulims grocery stores in eastern Idaho and western Wyoming if you aren't close to the Idaho Falls location.
It might be a little cheesy, but we're here to support our local, eastern Idaho businesses together. You can support Manwaring Cheese by ordering pick-up meals online or by ordering products to be delivered to your home.