When it started, Carson would share a Facebook video of her and Kyle trying new wines and discussing each one once a week. However, since the COVID-19 outbreak, her intentions changed. She noticed that many of her wine distribution accounts were going to struggle and she wanted to find a way to help. So, instead of only trying wine, she and Kyle, along with her best friend, and her fiance, came up with the ingenious idea to partner with small, locally-owned restaurants for food pairings to go with each week's wine tastings. Not only does Carson feel passionate about wine, but she's also passionate about supporting small, local businesses.
"We are all having a hard time with COVID-19, and to bring some light to anyone we can feels really good...even the people at home now having a dinner date. And they are putting money into these establishments that are struggling. It's a win-win for both sides."
On Wednesdays, the wines and restaurants are announced on the "Between Two Bottles" Facebook page. Then, on Saturdays at 7 p.m., Carson does a Facebook Live to virtually drink wine and eat dinner with everyone. This gives people a few days to plan ahead and purchase the food and wine they'll need for Saturday. During the Facebook Live, Carson and her guests talk about the tasting notes, history, fun facts, and labels of the wine while someone from the restaurant they feature talks about the food.
The Cardamom Experience
One restaurant featured on the "Between Two Bottles" was Cardamom, Cuisine of India. Cardamom created a menu for followers to purchase and eat that would pair well with the two wine choices from "Between Two Bottles." On this particular week, the wines chosen were a 2017 white Wine by Joe Pinot Gris and a red, 2014 Silver Peak Zinfandel. Tara and Kyle were joined around the table by Sheba from Cardamom, who had chosen a sweet but spicy chicken mango curry to pair with the Pinot Gris and lamb ribs with chutney sauce to go with the Zinfandel.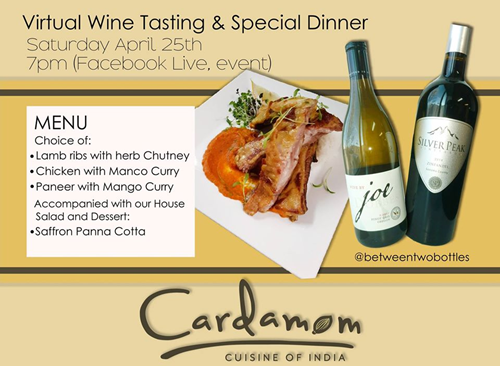 Tara and Kyle make a good pairing themselves. Tara exudes a fun, funky vibe, and Kyle has a staid, button-upped feel. Together their personalities appeal to a wide range of palates. The Wine by Joe was described as "easy-going" and a "crowd-pleaser," with scents of citrus and a palate of warm spice accents like vanilla and candied ginger. Tara elucidated on the wine-maker, Joe Dobbs, his Oregon winery and his family, informing the audience that each month the proceeds from one of their wines goes to charity. Kyle gave a glowing review of all the care that goes into the growing of their grapes. He said that Wine by Joe gives "good bang for your buck," noting that the price of a bottle of wine doesn't necessarily correspond with the quality. Sheba noticed that the crispness of the wine cut through the sweetness of the mango. One of the audience enjoying the multi-sensory evening agreed, stating, "Excellent pairing with Joe. Thank you!"